Young professional working on public policies,
passionate about innovation, education & digital world
---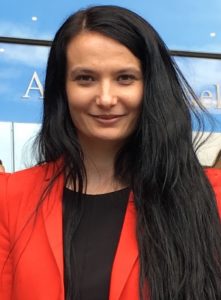 I am Veronica STEFAN, a young professional focused on policy and communities development in areas related to: education, digital transformation and innovation, in both national and international contexts.
I have been working with various stakeholders at national and European level since 2005, with an extensive experience in management of non-profits, developing networks & coalitions as well as in developing specific projects and contributing to legislation & public policies development.
As an enthusiast social changer I work as:
the founder & CEO of the first Romanian Digital Think-Tank – Digital Citizens Romania – a community of digital enthusiasts, public policy experts, private sector representatives and digital innovators. My focus is on fostering digital citizenship and providing expertise on innovation & policy development in the digital transformation era, while connecting the Romanian digital sector with the European & international debates (www.digitalcitizens.ro).
the co-founder of Social DOers – a Think-Tank & Resource Center focused on Youth, Social Justice and Social Innovation, by supporting evidence based policies & developing cross-sectoral initiatives, in order to guarantee the full participation of young people in the political, social & economic life (www.socialdoers.com).
expert and trainer with different organizations and multi-stakeholder working groups, including the Media Literacy Task Force of the North South Centre (Council of Europe), No Hate Speech Movement (Council of Europe), Digital Communication Network etc.
As a committed supporter of the younger generations:
I am a strong advocate for the rights of young people in NEET situations or at risk (Not in Employment, Education or Training) and proposing prevention and integration measures, based on the opportunities offered by the emerging technologies. As a result, I am engaged in supporting the establishment of 2 Coalitions – the Romanian one (gathering 40 NGOs, since 2014) and the European one (a multi-stakeholder platform bringing together both NGOs and decision makers, since 2016).
I have been working to represent young people's voice and develop youth policies, at national, European & international level – as the Leader of the Romanian youth movement and former President of the Romanian Youth Council (2011-2014), previously as Vice-President or Youth Policy Director. By joining platforms such as the European Youth Forum (YFJ) or AEGEE – European Students' Forum, I had numerous opportunities to advocate for youth priorities towards public institutions such as: the European Commission, Council of Europe, Organization for Economic Co-operation and Development (OECD), European Economic and Social Council, UNICEF etc.
As Project Manager I have coordinated a number of initiatives with both national and international impact, funded by institutions or organizations such as the Asia-Europe Foundation (Asia-Europe Meeting structure), European Commission, UNICEF, EEA & Norway Grants, Romanian Structural Funds etc.
Professional interests: Public policies, Education, Digital Agenda, International cooperation, Participation and democracy, Community development, Non-formal education, Youth work
Personal interests: Astronomy, Space exploration, Photography, Traveling, Experimenting (new cultures, cuisines, tech gadgets)